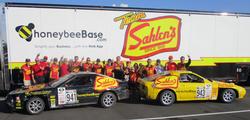 Posted (10/12/2018) -

ChampCar Endurance Series –

Pittsburgh International Race ComplexMid-Ohio Sports Car Course

October 6th, 2018 = 8 Hour Race

October 7th, 2018 = 7 Hour Race

Fast Facts:
2018 marked the 4th year in a row that Team Sahlen has entered the ChampCar Endurance Series event at Pitt Race

In the 7 races contested, Team Sahlen has secured 10 Top Ten Finishes in the ChampCar Pitt Race events

Team Sahlen won the Sunday ChampCar enduro at Pitt Race for the 2nd year in a row

Sunday's official margin of victory was 0.14 seconds – or approximately 4 feet.

#941 "Charcoal" set fastest race lap in Saturday's race
Race Weekend News Report & Quotes:
Team Sahlen, presented by honeybeeBase.com, has one of their most amazing race weekends ever.
The weekend started off on Friday with open practice. Mechanical issues with #942 "Ketchup" saw Team Sahlen pull #941 "Charcoal" out of the trailer and put into service for the race weekend. "Charcoal", originally built in 2011, is considered the "old faithful" of the team's racing stable. Despite having many, many, many race miles under its belt, the tried and true "Charcoal" always comes through for the team. The crew worked feverously into the evening to prepare the racer for action.
During Saturday's 8 hour race, Charcoal did not disappoint, setting a blistering pace, and setting fastest race lap along the way. In the final moments of the race, Charcoal was in 2nd place, charging hard for the overall win, when it ran out of gas with a lap to go. #943 "Mustard" was also in the thick of the action, securing a very well deserved 5th place overall and 1st in the B class. Despite this hiccup, "Charcoal" still secured 9th Overall and 2nd in the B class.
Sunday's 7 hour race saw everyone at Team Sahlen with high hopes in anticipation of contending for the Overall victory. On this day, #943 "Mustard" was up to the challenge, and after 6 hours of racing, the Rotary Rocket was on the lead lap behind the leading red BMW. Wayne Nonnamaker was behind the wheel, and stayed with the leader for the next 45 minutes. Then a full course caution came out, setting up for an epic 4 race dual. When the race went back to green, the lead exchanged hands several times. As the cars raced to the checkered flag, #943 "Mustard was in the lead, with the red BMW charging hard. The Rotary Rocket had just enough to squeak out the win by 4 feet. With the Overall victory, #943 "Mustard" also secured the clean sweep of both Class B wins for the weekend.
Wayne Nonnamaker shared his enthusiasm after the race – "Wow, in all may years of racing, that has to be one of the most thrilling races that Team Sahlen has ever been in. To race for 7 hours and to come down to 4 feet is amazing. Joe Sahlen drove a fantastic race all day, setting down monster laps to keep us right in the lead pack. And the crew had great pit stops, keeping us in the pits for the minimalist of time. Just amazing to walk away with this Overall victory."
2018 Team Sahlen Campaign Partners
honeybeeBase.com, eEuroparts.com, Tarett Engineering, Guard Transmission, Porsche of Beachwood, Pittsburgh International Race Complex, HubstandsPRO, Brothers Grimm Landscaping, NGK Spark Plugs, CM Racing Products, Mothers Polish and Wax, Grassroots Motorsports Magazine, Design Engineering Inc., Hard Brakes, Forgeline, Optima Batteries, Maxima Racing Oil, Winding Road Racing, Lamin-X, MSI Racing Products, WIX Filters