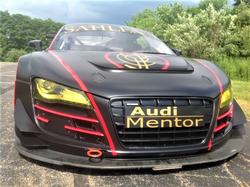 Posted (08/05/2019) -

With the addition of the new Audi R8 LMS GT3 to the Team Sahlen's stable of racers, the team also welcomed a brand-new partnership with Audi Mentor, Audi Dealership located in Mentor, Ohio.




Audi Mentor's Jason Bailey shared his excitement – "The Audi R8 LMS GT3 is truly a fantastic race car. The Audi R8's history in Endurance Sports Car Racing needs no introduction, having won a wide variety classic events around the world. This CV includes the overall victory in this year's Nürburgring 24 Hours. Now we get to join with Team Sahlen add to the R8's honor roll of overall victories in Endurance Racing."




Team Sahlen's Sporting Director Will Nonnamaker shared his thoughts – "Although the new race car is a GT3 spec racer, amazingly there are many, many parts that come straight from the street R8. Having Audi Mentor as our new partner will make the transition to the R8 dramatically less difficult. We are looking forward to being able to learn from their technical expertise as well as their great parts department."




Driver Wayne Nonnamaker shared his thoughts – "Not only is Audi Mentor just up the road from our shop, they are another "Buckeye" addition to our long list of great Ohio partners. This includes Porsche Beachwood, who just like Audi Mentor, is a part of the Penske Automotive Group. Actually, its kind of funny and ironic that we have 2 great Penske Automotive Group partners, since Team Penske currently has 2 of our past racers in Simon Pagenaud and Dane Cameron."

The Audi R8 LMS GT3 is not the only Audi you would find parked at the Team Sahlen facility. Team Sahlen's Director of Timing & Scoring Kris Nonnamaker has an A8 as her daily driver. Kris shared her enjoyment in the A8 – "Of all the cars I have ever had, my Audi A8 is my favorite. It drives so smooth and effortlessly. I have the Long Wheelbase version and it makes sitting in the back seat a true joy." Additionally, Team Sahlen's Chief Engineer Tim Weyer also drives an S4. Tim shared his thoughts – "Even though I was able to purchase my S4 used, you would never know it. The ride is crisp and solid as if it was just brand new."




Team Sahlen will be testing the new Audi R8 LMS GT3 at Nelson Ledges in August. This test is in preparation for the debut with the Summit Racing – American Endurance Racing Series. The 1st event will be the dual 8 ½ hour Endurance Races will take place at Mid-Ohio Sports Car Course in October. Then Audi Mentor supported racer will visit Pittsburgh International Race Complex just before Thanksgiving for the series' season finale dual 9 hour endurance races.

About Audi Mentor

A part of the Penske Automotive Group, the dealership is located near Cleveland, in Mentor, OH. Audi Mentor thrives on helping their customers find their next new Audi A4, A5, A6, A8 or Q5. Of course, they don't stop at simply helping a customer decide which model they like. They also have dedicated auto financing experts on site to help you make your dream car part of your everyday routine.

Looking for a used car instead? Audi Mentor carries a wide range of well-maintained used Audi models, as well as top picks from other automakers. They have a strong and committed sales staff with many years of experience satisfying our customers' needs. Feel free to browse their inventory online, request more information about vehicles or set up a test drive!

What's more, their top-notch customer service doesn't end at the sale. The Audi Mentor car service department can help keep your car running like new for years to come. The secret? Only the truly committed Audi experts and the finest Audi parts make it into their shop.

About Team Sahlen:

Team Sahlen is an Endurance Sports Car racing team. The current series the team competes within include the Tire Rack – ChampCar Endurance Series, the Summit Racing – American Endurance Racing Series and the World Racing League. Team Sahlen has achieved the unique distinction of being the only team to have won overall in these 3 different sportsman endurance series, having accomplished this mark amazingly three seasons in a row: 2016, 2017, 2018. The Team's weapons of choice on the race track includes a vast array of European Machinery – Porsche Boxster, Porsche Cayman, Porsche Cayman PDK-GT and the Audi R8 LMS GT3. Established in 1984, the team has been successful in all Endurance series they have competed within. This list includes the SCCA Escort Endurance Series, IMSA Firestone Firehawk Series, Grand American ROLEX Series and the IMSA Continental Tire Series. The achievement with these Professional Series includes 7 Driver Championships, 53 Victories, 160 Podiums and 42 Pole Positions.

2019 Team Sahlen Campaign Partners

honeybeeBase.com, Porsche Beachwood, Audi Mentor, ECS Tuning, Tarett Engineering, Guard Transmission, Pittsburgh International Race Complex, HubstandsPRO, Maxima Racing Oil, Brothers Grimm Landscaping, NGK Spark Plugs, CM Racing Products, Mothers Polish and Wax, Grassroots Motorsports Magazine, Design Engineering Inc., Hard Brakes, Forgeline Wheels, Optima Batteries, All-Fit Automotive, Mazdaspeed, MSI Racing Products, Winding Road Racing, eEuroparts.com and WIX Filters.