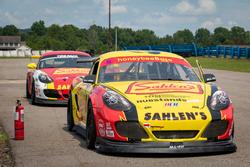 Posted (08/16/2019) -

Team Sahlen recently tested at historic Nelson Ledges Road Course. The test had many goals and missions wrapped up all in one day.

The 1st mission was to shake down the team's brand new Audi R8 LMS GT3. The testing went very well, with both the crew and the drivers learning a lot. Will Nonnamaker shared his feedback – "This is quite a car to take on track. And in our debut test, we had the R8 on 180W rated tires. I think we might be the 1st to ever run the R8 racer on street tires. We needed to make a bit of adjustment in set up to get it right. I think we are in a good place to race the Audi at the Summit Racing American Endurance Racing event at Mid-Ohio Sports Car Course in October.




The 2nd objective for the day was to put some laps on the team's 2 Porsche Cayman PDK racers. The unique nature of the Porsche PDK transmission won't allow for Caymans to run on Team Sahlen's in house Chassis Dyno. Thus, bringing both Stuttgart racers to Nelson allowed to ensure all was well in anticipation of the duo's next event at Mid-Ohio.




Another goal for the team was to get some much needed track time at Nelson Ledges in anticipation of the upcoming Tire Rack – ChampCar Endurance Series' 24 hour race at the track. The team took the time to work on some set up on their Porsche Boxster. And driver Joe Sahlen was able to get his 1st laps on the track. Joe shared his thoughts after the test – "I had heard what a fast track Nelson is. But until you drive it, you don't realize how fast it really is. All of the turns are sweepers and you just keep rolling around the track, lap after lap. I can't wait for the 24 hour, it should be a lot of fun."




Joe Nonnamaker shared his thoughts on driving on Nelson Ledges again – "It has been since 2014 that I was last on Nelson Ledges. All I can say is wow, what a difference. The track has been repaved and resurfaced. There are some great curbs that have been installed at the apexes and exit of turns. And as well, there are several areas where some trees have been cut down that certainly assists on visibility. It truly was a joy to drive at Nelson Ledges today."

2019 Team Sahlen Campaign Partners

honeybeeBase.com, Porsche Beachwood, Audi Mentor, ECS Tuning, Tarett Engineering, Guard Transmission, Pittsburgh International Race Complex, HubstandsPRO, Maxima Racing Oil, Brothers Grimm Landscaping, NGK Spark Plugs, CM Racing Products, Mothers Polish and Wax, Grassroots Motorsports Magazine, Design Engineering Inc., Hard Brakes, Forgeline Wheels, Optima Batteries, All-Fit Automotive, Mazdaspeed, MSI Racing Products, Winding Road Racing, eEuroparts.com and WIX Filters.