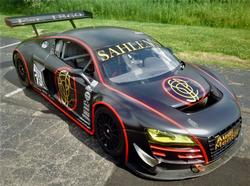 Posted (08/03/2019) -

Team Sahlen added a new racer to their already full stable with the inclusion of the recently acquired Audi R8 LMS GT3. The Audi R8's history in Endurance Sports Car Racing needs no introduction, having won a wide variety classic events around the world. This CV includes the overall victory in this year's Nurburgring 24 Hours. Now Team Sahlen is excited to be able to add to the R8's honor roll of overall victories.

Team Sahlen Sporting Director Will Nonnamaker shared his thoughts – "We are very excited to add the Audi R8 LMS GT3 to our stable of racers. For 2019, we will be entering the R8 in the Summit Racing – American Endurance Racing Series, at both the Mid-Ohio and Pittsburgh events. We are very familiar American Endurance Racing, having raced in the series since 2015. Looking towards 2020 and beyond, we are excited for the options that the Audi presents for Team Sahlen. The R8 is eligible in several interesting Endurance series in North America. In particular, the COTO event in the 24Hour Series presents a unique opportunity for our team to look towards."




The Paint scheme on this Sahlen racer is very unique. Utilizing the classic Sahlen's Stamp Logo, the R8 is wrapped in flat black, with the shiny metallic gold and red stripping/lettering setting off a very classy look. Appropriately; the team has nicknamed the Audi as "Retro" in honor of this throwback look. Joe Sahlen shared his thoughts - "2019 marks Sahlen's 150th Anniversary. And it seemed fitting to tie in with the introduction of the R8 to our yearlong celebration. We were able to have the Audi on display at our recent event at the Pierce Arrow Museum in downtown Buffalo. The car looked fantastic while on display, but now am ready to get it out on track and drive it."




Team Sahlen will be testing the new R8 at Nelson Ledges Road Course in August in preparation for the October event at Mid-Ohio. The test will be essential so the drivers and the crew become familiar with the intricacies of the Audi racer. Although Team Sahlen did secure a 1st and 2nd overall in their most recent Summit Racing – American Endurance Racing event with their Porsche Caymans, the competition continues to heat up in the series. Securing an Overall Victory against some very exotic Ferrari, Mustang, Porsche and BMW will not be easy. The Team will need to be on their game, with strong pit stops and quick pace on track, to secure a top spot on the podium.




Team Sahlen driver Wayne Nonnamaker shared his anticipation of getting the R8 on track – "We raced against this exact R8 when we competed in the Grand American ROLEX series. It was always such a well handling racer. I think the platform will adapt well to 180W rated tires, and offer our team a great platform for our endurance racing adventures in the years to come."

2019 Team Sahlen Campaign Partners

honeybeeBase.com, Porsche Beachwood, Audi Mentor, ECS Tuning, Tarett Engineering, Guard Transmission, Pittsburgh International Race Complex, HubstandsPRO, Maxima Racing Oil, Brothers Grimm Landscaping, NGK Spark Plugs, CM Racing Products, Mothers Polish and Wax, Grassroots Motorsports Magazine, Design Engineering Inc., Hard Brakes, Forgeline Wheels, Optima Batteries, All-Fit Automotive, Mazdaspeed, MSI Racing Products, Winding Road Racing, eEuroparts.com and WIX Filters.