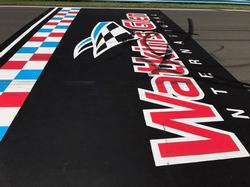 Posted (05/30/2018) -

Very few racers ever compete in a race with over 100 entries. But for Team Sahlen, this is a reality every year at the Sahlen's Champyard DOG at the Glen event with ChampCar Endurance Series. Just witnessing over 100 racers on the track at once taking the green flag at Watkins Glen International is a site to behold. Being behind the wheel of the race car on track with all 100 cars at once is whole other level of excitement.




Joe Nonnamaker shares what 100 cars on track feels like – "I have raced for over 45 years, and there is nothing like this. Imagine LA rush hour traffic to the nth degree. You never have 1 lap the whole race that you are not either passing or being passed on track. Cars being 3 wide on the front and back straightaway is not uncommon. You have to be focused and engaged at all times to turn fast laps and stay out of harms way."

The race weekend for Team Sahlen started on Friday with open practice time in the afternoon. All three Rotary Racers ran well during the test and tune. At the conclusion of the day, all the ChampCar racers were treated to a Sahlen's Tailgate party cook out, with Sahlen's Hot Dogs of course. Over 800 people were served, with a happy smile on each individuals face as they bit into their delicious grilled up Sahlen's dog with Mustard and Ketchup.

Saturday dawned with beautiful blue skies and optimism in the air for all three Team Sahlen cars; Ketchup, Mustard and Charcoal. Interestingly, all three cars were started by a Joe: Joe Sahlen, Joseph Sahlen and Joe Nonnamaker.

Joe Sahlen in #942 – Ketchup quickly made his way through the pack, ending up in the lead of the race. Ketchup continued to stay in the front of the pack throughout the 1st 5 hours of the race. At the 5 hour mark in the race, a full course red flagged stopped the race for over 40 minutes. This slight alteration in race distance saw Team Sahlen needing to complete another pit stop, while several fellow competitors were able to stretch their fuel mileage till the end of the race. Not to be deterred, Team Sahlen pushed forward get back on the lead lap and secure 3rd overall in the race and 2nd in the B Class.

#941 – Charcoal had a super solid run all day long. Drivers Joseph Sahlen and Jacob Grimm returned from a 12 month layoff from racing to garner an amazing 14th overall and 3rd in B Class.

Joseph Sahlen shared his thoughts after Saturday's race - "What a fantastic race. Jacob and I drove an error free race for all 7 hours. We never made one unscheduled pit stop. We never lost time on track. And then to beat 86 cars to finish 14th overall is a great run. I had a blast. This is such great fun each time I come out here and race."

#943 - Mustard suffered from a slight electronical glitch that sidelined the racer in the garage for the middle portion of the race. The crew was able to make repairs, and focus upon preparing the car for Sunday's 7 hour race.

Sunday's weather was the complete opposite of Saturday; Cold, Wet and Slippery. Team Sahlen made necessary adjustments, including putting on wet weather, full grip tires.

From a random starting order, Team Sahlen's Rotary Rockets started in the back of the field. This distant starting position and wet weather though did not deter Team Sahlen, and by 1 hour in the race had risen to 13th Overall.

Just past the 1 hour mark, #942 – Ketchup lost 4th gear. This placed the car at significant handicap for the remainder of the race. Despite this loss in speed, Joe Sahlen and Will Nonnamaker never gave up and drove an error free race to a 14th Overall and 4th in B Class.

Will Nonnamaker expressed what it was like driving without 4th Gear – "Funny part about not having 4th gear at Watkins Glen was that the margin to the other racers was less when it was wet. But as the track dried out, not having 4th gear really started to show up. You would get to the end of 3rd gear and just shift over to 5th gear, and wait for the little rotary motor to be able to catch up to the drop in revs."

#943 – Mustard made up for not running the full distance on Saturday by having a fantastic day on Sunday. Working a strategy to minimize time in the pits, Joe & Wayne Nonnamaker drove a heads up pace all day long, and were rewarded with a 5th place overall and 1st in the B class

Wayne Nonnamaker shared his end of race stint – "The track started to dry out in the last hour of the race, and we really started making headway on the front of the pack. It was fun turning hot lap after hot lap, racing hard to get into the Top 5. We achieved our goal, but it would have been fun to have seen what another half hour of dry would have netted on the race results."

2018 Team Sahlen Campaign Partners

honeybeeBase.com, eEuroparts.com, Tarett Engineering, Guard Transmission, Porsche of Beachwood, Pittsburgh International Race Complex, HubstandsPRO, Brothers Grimm Landscaping, NGK Spark Plugs, CM Racing Products, Mothers Polish and Wax, Grassroots Motorsports Magazine, Design Engineering Inc., Hard Brakes, Forgeline Wheels, Lamin-X, Optima Batteries, Mazdaspeed, MSI Racing Products, Winding Road Racing and WIX Filters.