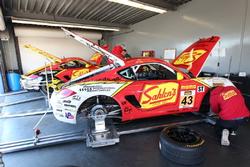 Posted (04/22/2014) -

Having a precise set up is key when desiring to excel in a professional sports car series such as the Continental Tire Sports Car Challenge. When Team Sahlen's lead engineer Kate Crawford desires to make a few mm change of toe in, she need to know that the changes are exact.

In the old days of racing, teams just rolled their race cars on a scale pad, and measured from some point on their wheels. The problem with this type of measurement is that tires may have build up rubber, used wheels may not be perfectly centered anymore. This can result in a mechanic actually making a change to a set up that takes the setting in the opposite direction desired.

But now, this problem is no longer a factor, for racers, such as Team Sahlen now have the opportunity to utilize the precision crafted HUBStands from BBXRacing to achieve the task of replacing the wheels and tires on the set up pads.

Shared Team Manager Jay Chapman - "We are very excited to be partnered with Brion and BBXRacing to be able to utilize their excellent HUBStandsPro. And to fact that BBXRacing is from Western New York makes it even more fantastic. I know that Joe Sahlen enjoys being able to partner with companies from his home area. As we continue to push to get to the front and compete for the top step in the ST class of the Continental Tire Sports Car Challenge, having precise set up tolerances will be key in extracting the most out of the Porsche Cayman chassis."

Some Key Questions you may be asking yourself about HUBSTands:

What makes HUBStands different? ..... Both ProHUBStands and standard HUBStands eliminate the wheels and tires from your entire set up and alignment process. Tires add variance to your measurements and hours to your project, HUBStands minimize time and eliminate tire variables; making it all easier, way faster and far more precise. With engineering help from the University of Buffalo, HUBStands were designed to be strong, stable, adjustable, precise platforms to make measureing and adjusting your set up easier, faster and more repeatably accurate. They are machined from solid 6061 T6 aluminum, made in the USA and fit multiple cars with a single set of either standard or ProHUBStands.

How much time will HUBStands save me? ..... On Pro or Standard HUBStands, it can take as little as 15 minutes to completely corner balance a car. Our customers tell us that when they do everything at once, i.e height, balance, caster, camber and toe, it typically can all be measured and set in around an hour or so. On some cars it takes even less time.

What is the sequence of steps to set up a car? .... First, keep in mind that every change in one setting can affect the other settings. Typically the sequence is to set the Ride Height and the Corner Balance first. Then set the Thrust, Caster and re-measure the balance. Finally set the Camber followed by the Toe then go back and check the Camber and the balance..It's a lot of steps to get it all, but it's a whole lot easier on HUBStands when you don't have to keep jacking the car and putting the wheels on and off, over and over, again and again..

How do I measure Toe with HUBStands? ......................HUBStands come with stainless steel Toe Sticks that pin fit into holes on the face of the HUBStand, keeping them precisely parallel to the face of the hub. The Toe Sticks can be placed up on the HUBStands in line with the hub center when measuring with strings or they can be placed at the bottom of the HUBStands, still exactly parallel with the hub face and used as a reference to measure across the car for total toe. The steel Toe Sticks eliminate the margin of error inherent in tires.

Will HUBStands fit my car? ...........................Yes. We have available fits for most car makes and most 4, 5 and 6 bolt hub patterns, including center nut hubs. All of the Hub Plates have mutiple bolt patterns on them so one set of HUBStands can be used on more than one make car. Check with us to see what patterns combinations are available.

About HubstandsPro and BBXRacing:

In the 4 years since the first set of HUBStands was sold, BBXRacing has improved and expanded the standard line of HUBStands; added Smart Camber gauges and the full line of Intercomp Scales and Gauges.

BBXRacing spends tons of time with racers at all levels; talking racing and racing set-ups. From those conversations, requests and ideas, BBXRacing created ProHUBStands set up wheels. ProHUBStands give acers the ability to get extremely close tolerance, repeatable measurements with "Zero Variance"

In the beginning of this year, B and G Racing in the UK became the European distributor and lead retailer after using HUBStands for their own race team. Now BBXRacing has added B&G Racing's String Line kits to our race team and to our product line.

HUBStands were created in the first place to make setting up our own race car easier and faster. BBXRacing worked with the engineering school at the University of Buffalo and with other racers they knew to develop their idea into a great time saver and precision tool for anyone to use. BBXRacing will keep adding products and working on ideas that help racers get their cars quicker; and get them quicker way faster.

If you have any comments or questions; any suggestions on how BBXRacing can make our stuff better, drop note to (brion@bbxracing.com) or give a call. 716 632 3919.

BBX Racing Ltd.

4755 Boncrest Drive W.

Clarence, NY 14221

Official Website:

2014 Team Sahlen Campaign Partners:

Turbo Performance Center, Tarett Engineering, MOMO, Guard Transmission, Forgeline, Porsche of Beachwood, Pittsburgh International Race Complex, HubstandsPRO, MSI Racing Products, NGK Spark Plugs, TheRacingInsiders, CM Racing Products, Mothers Polishes, Winding Road Racing, Grassroots Motorsports Magazine, Maxima Oil, CV Products, Design Engineering Inc., Hella, Racing Print Media, Hard Brakes, CRC Chemicals, Penske Shocks, PFC, Lamin-X, Optima Batteries and TheRaceSite.com.