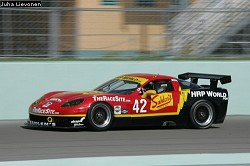 Posted (01/24/2007) - Team Sahlen's will be presented by HRPWorld.com in the 2007 Grand American Rolex GT Season. This continues HRPWorld.com and Phoenix ProMotions' long-running partnership. Phoenix ProMotions is the company responsible for the Team Sahlen's racing campaign.

Since 2002, when Phoenix was running Acura Integras, HRPWorld.com has partnered with Phoenix and has since grown to become one the team's major partners. Team Sahlen's counts on HRPWorld.com when they need vital race equipment and support and is considered an important technical partner to the team.

Team Sahlen's driver Wayne Nonnamaker credits HRPWorld.com for helping their 2007 racing series come to light.

"HRPWorld.com has been a key ingredient in making our 2007 Grand American Rolex GT program a reality. Their technical expertise with the tube frame car is second to none. Irv Hoerr, owner of HRPWorld.om, has won over 60 professional races and six professional championships and has far more knowledge about racing than I could ever imagine. Jason Mitchell and the whole staff at HRPWorld have always provided excellent service. We're proud to help promote such a strong company."

Since 1960, R/A Hoerr, Inc. has been an active participant in the auto racing industry. What started as a small race team quickly evolved into Hoerr Racing in 1975. The expansion of the team accelerated by the mid-1980s when Oldsmobile contracted Hoerr Racing to design, develop, and campaign for their newest endeavor, the Olds Tornado. This partnership with Oldsmobile led to countless victories over the next several years, producing more recognition and esteem for the Hoerr name.

In 1998, Hoerr Racing combined 40+ years of success with all their technical knowledge to become Hoerr Racing Products. In 2001, the corporation added Hoerr Racing Distributing to its line and included HRP Fabrication Services and HRP Rem Finishing Service in 2003.

With everything they offer, Hoerr Racing Products ensures customer satisfaction from start to finish. From car design to fabrication to maintenance, HRP boasts unequalled technical experience. Add their dedication to have the highest quality products, their focus on research and development for the enhancement of sport racing and their unmatched appreciation of loyal customers, HRP has become an unparalleled force in the racing industry.

In 2007, R/A Hoerr Inc. will continue to evolve in the motorsports world with their experience, tradition, and continued research and development into their Manufacturing, Retail, and Distributorship Divisions.

Team Sahlen's, to say the least, is honored to be presented by such an esteemed company and appreciate everything the staff at HRPWorld has done.

Team Sahlen's races with the support of HRPWorld.com, GOJO, Kempthorn AutoMall, HAWK Performance, Forgeline, Cool Suit, TheRaceSite.com, TheRaceMarket.com, Grassroots Motorsports, HOTSEAT, Holliday Canopies, CORSA, Alcon, CM Racing, Endurance Karting and Racetech Seats.