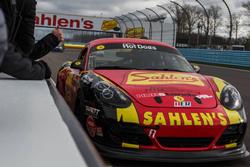 Posted (04/04/2018) -

Team Sahlen, powered by honeybeeBase.com, will kick off their 2018 race season at Watkins Glen International. The event will be the "Sahlen's Sports Car Springfest at the Glen" with the American Endurance Racing series. This will be the 3rd year in a row that Team Sahlen has entered this event. In 2016, Team Sahlen secured a 1st place finish overall in Saturday's 9 hour race, then a 2nd place overall in Sunday's 9 hour race. For last year's event, Team Sahlen returned hoping to improve on the prior year's results. The mission was successful, with an Overall Victory in both Saturday's and Sunday's 9 hour races. The Sunday victory was especially memorable as the team's winning Cayman was equipped the Porsche PDK Transmission. This win was the 1st Overall Victory in an endurance sport car race by the Porsche PDK automatic transmission in a production based race car.




Will Nonnamaker shared his thoughts on the last year's historic event – "With so many 1st having occurred through the years of racing, it's very difficult to achieve a milestone that has never been achieved before. It's rather ironic that we were able to achieve this milestone, due to the factor that the 1st time anyone tried to race a production based automatic transmission was my dad Joe at the 1981 Nelson Ledges 24 Hours. In that event, my Dad's Datsun 280ZX Turbo was able to finish a very respectable 6th overall. And here we were 36 years later, with a much more refined piece of engineering and securing the overall victory."

For this weekend's race, Team Sahlen will have 2 PDK Automatic Transmission equipped Porsche Caymans entered in the Group 5 class; the premier top overall class with the fastest cars in the series. This class has become very competitive with several fast teams and cars entering the race for overall honors. Some of the makes include Ferrari, BMW, Corvette, Audi, and Ford Mustang. It will be no easy task for Team Sahlen in this event.




Joe Nonnamaker shared his thoughts leading up to this weekend "This is our 4th year racing in American Endurance Racing. In that time, we have seen the series grow in both quantity and quality of teams on the track. We had a close battle here last year for the overall victory. And we expect nothing less than stiff competition this year as well. We have been working hard in the off season to be prepared. We have worked on several improvements to our Caymans in the off season, and hope to be able to see those efforts pay off at the conclusion of each day's 9 hour endurance race."




The last time Team Sahlen was on track was at the 2017 American Endurance Racing season finale at National Corvette Museum Motorsports Park. Team Sahlen faced stiff competition, but also combatted blistering cold, rainy weather all weekend. In the end, Team Sahlen secured overall victory in Sunday's 9 hour endurance event.




Drivers for the weekend will be Joe Sahlen and Joe, Wayne & Will Nonnamaker. Joe Sahlen shared his thoughts leading up to the weekend, - "I am very excited about this weekend. Watkins Glen is my home track. I am excited to get back on track racing this year, and to drive our enhanced Porsche Caymans at the Sahlen's Sports Car SpringFest at the Glen event."




Wayne Nonnamaker added his thoughts to the upcoming weekend – "There are over 90 cars entered for the Sahlen's Sports Car Springfest at the Glen. This is up from the last 2 years that was at the 70 car entry level. Our driver line up has experienced 100+ car races at Watkins Glen, when we have competed at the Memorial Day weekend Sahlen's Champyard DOG at the Glen. The track is a lot more crowded and managing traffic is key to not only quick lap times, but avoiding contact on the track. It will be a tough weekend, but I am confident in our team executing both on the track and in the pits to be there at the end of the race to contest for the top spot on the podium."




Sahlen's Sports Car Springfest at the Glen

with American Endurance Racing

Weekend Schedule

Day Time Event

Friday – April 20th 9 am - Noon Practice

1 pm – 5 pm Qualifying

6 pm Sahlen's Tailgate Party

Saturday – April 21st 8 am Race Start

5 pm Checkered Flag

5:30 pm Awards

Sunday – April 22nd 8 am Race Start

5 pm Checkered Flag

5:30 pm Awards

2018 Team Sahlen Campaign Partners

honeybeeBase.com, eEuroparts.com, Tarett Engineering, Guard Transmission, Porsche of Beachwood, Pittsburgh International Race Complex, HubstandsPRO, Brothers Grimm Landscaping, NGK Spark Plugs, CM Racing Products, Mothers Polish and Wax, Grassroots Motorsports Magazine, Design Engineering Inc., Hard Brakes, Forgeline Wheels, Lamin-X, Optima Batteries, Mazdaspeed, MSI Racing Products, Winding Road Racing and WIX Filters.