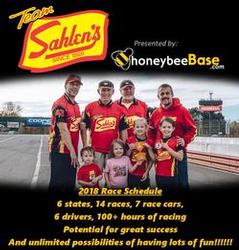 Posted (01/15/2018) -

Team Sahlen, presented by honeybeeBase.com, enters its 34th year of Sports Car Endurance Racing in 2018. With a schedule that encompasses over 14 races and 100+ hours of racing, a strong driver line up will be necessary for the team to take on the competition in these grueling endurance events. All 6 drivers from the 2017 season have been re-signed to man the wheels of Team Sahlen's fleet of 4 Porsche Caymans and 3 Mazda RX7s. These drivers are Jacob Grimm, Joe Nonnamaker, Wayne Nonnamaker, Will Nonnamaker, Joe Sahlen and Joseph Sahlen. This exact line-up of drivers contributed to Team Sahlen's achievement in securing OVERALL Victories in 3 different series: American Endurance Racing, ChampCar Endurance Series and World Racing League. This achievement is all the more remarkable as it was the 2nd straight year that Team Sahlen had secured overall victories in these 3 different series.

The 2017 Race Season Statistics notates 34 race entries that encompassed over 170 hour of on track racing. There were 7 OVERALL Victories as well as 10 Class Victories and 21 podiums. For 2018, Team Sahlen is striving to equal if not better this win column mark from last year.

Team Sahlen's longest tenured driver Joe Nonnamaker returning for his 27th season with the team. Joe Nonnamaker shared his thoughts coming into the 2018 season - "I am very excited about race season ahead. With 14 races on schedule, there will be certainly a lot of racing action. I am looking forward to getting to race at Summit Point Raceway in West Virginia. This is one track that I have never been to before. I have heard a lot of chatter over the years of how challenging the circuit is and I am looking forward to getting out there."

Joe Sahlen will be entering his 13th season of racing. He shared his excitement for the year ahead – "This is shaping up to be a great season ahead. Again, we get to race 2 times at my favorite track – Watkins Glen International. Then at the end of the year in December, we are going to conclude the season at Virginia International Raceway. I have raced the full circuit many times, but this will be different as we will be on the North Course the weekend after Thanksgiving. This short course appears to keep the driver quite busy during the entire lap of the track. I am looking forward to the Virginia and the challenge of the entire season ahead."

Brothers Wayne & Will Nonnamaker will continue to contribute time behind the wheel of the Sahlen racers. Wayne continued to show strong pace, no matter what race car he was in last season. Wayne secured 3 Pole Positions and 7 Fastest Race Laps during 2017.

Returning to Team Sahlen for 2018 for partial season schedules will be Jacob Grimm & Joseph Sahlen. The duo paired together last year for the 2nd time at the Sahlen's Champyard DOG at the Glen and secured a very, very solid 15th out of 108 entries and 3rd in Class B.

Team Sahlen' 2018 Season Schedule

Date Track

April 20-23 Watkins Glen International

May 25-27 Watkins Glen International

July 6-8 National Corvette Museum Motorsports Park

September 14-16 Summit Point Raceway

October 5-7 Pittsburgh International Race Complex

October 19-21 Mid-Ohio Sports Car Course

December 1-2 Virginia International Raceway

2018 Team Sahlen Campaign Partners

honeybeeBase.com, eEuroparts.com, Tarett Engineering, Guard Transmission, Porsche of Beachwood, Pittsburgh International Race Complex, HubstandsPRO, Brothers Grimm Landscaping, NGK Spark Plugs, CM Racing Products, Mothers Polishes, Grassroots Motorsports Magazine, Design Engineering Inc., Hard Brakes, Forgeline Wheels, Maxima Racing Oil, MSI Racing Products, Lamin-X, Optima Batteries, Mazdaspeed, Winding Road Racing and TheRaceSite.com.