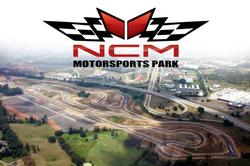 Posted (06/01/2017) -

Team Sahlen will be making their 1st ever visit to the newly opened National Corvette Museum Motorsports Park in Bowling Green, Kentucky. The event will be the Chump Car World Series - Racing Radios Grand Course Enduro. The races will take place on the full 3.15 Mile course. The course is located just across Route 75 from the National Corvette Museum.

Joe Nonnamaker shared his excitement of going to Bowling Green -

"Growing up, I was a huge Corvette fanatic. As soon as a graduated College, I saved up enough money to buy a Corvette. From there my passion for all things Corvette grew. Through the years, I have been able to race a C5 and C6 Corvette. I have actually never been the Corvette Museum, so hopefully we can find some time during the weekend to make our way over to tour the halls."

At this weekend's Racing Radios Grand Course Enduro, Team Sahlen will be entering and racing their Ketchup and Mustard Mazda RX7s. Drivers will be Joe Sahlen, Joe Nonnamaker, Wayne Nonnamaker and Will Nonnamaker.

"It will be fun getting to learn a whole new circuit. This is a very long track at over 3 miles. It will take several laps to be able to master the course. It looks like there are a lot of sweeping, high momentum turns which will suit the nature of our Mazda RX7s. I can't wait to get on track." – shared Wayne Nonnamaker

At the recent Sahlen's Chumpyard DOG at the Glen, Team Sahlen secured 2 Top Ten Finishes in the 107 car field. Joe Sahlen shared his thoughts on lessons learned from the most recent race "We made a lot of improvements over the off season. The improvements were evident on track, with our pace placing us with the 4th fastest race lap on Saturday. We had 2 solid Top Ten finishes out of the 107 entries. We learned some valuable lessons from that event, and hope to make those improvements for this weekend's event."

Saturday's 8 hour race will start at 9 am and conclude at 5 pm. Then Team Sahlen's crew will get to work that evening re-preparing the Rotary Racers for Sunday's 7 hour event that will start at 9 am and conclude at 4 pm.

Live timing and scoring of the event can be viewed by visiting www.chumpcar.com and clicking on the Live Timing button on the home page of the site.

2017 Team Sahlen Campaign Partners

eEuroparts.com, Tarett Engineering, Guard Transmission, Porsche of Beachwood, Pittsburgh International Race Complex, HubstandsPRO, Brothers Grimm Landscaping, NGK Spark Plugs, CM Racing Products, Mothers Polishes, Grassroots Motorsports Magazine, Design Engineering Inc., Hard Brakes, Forgeline Wheels, Alcon Rotors, Lamin-X, Optima Batteries, Mazdaspeed, MSI Racing Products, Winding Road Racing and TheRaceSite.com.