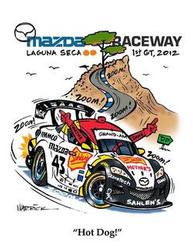 Posted (05/05/2017) -

5 years ago, Mazda secured their very last professional victory worldwide with the Rotary Motor. This victory came aptly at Mazda Raceway Laguna Seca. Not only was the Continental Tire Sports Car Festival event the penultimate round of the Grand American ROLEX Sports Series 2012 Season, this was the penultimate event in the career of the Mazda RX8 race car. Thus this provided for a very emotional send off for the long beloved buzzing rotary motor.

The team that secured the victory that day in California was Team Sahlen. A long time member of the Mazda racing family, Team Sahlen's history with Mazdaspeed has dated all the way back to 1994, when the team made the worldwide professional racing debut of the Mazda MX6. Through the years that followed, Team Sahlen was able to partner with Mazda to many successes including the 1999 Continental Tire ST Driver Championship, the 2010 ROLEX GT Manufacturer crown and the 2012 Bob Akin Sportsman Award.

Drivers in the Team Sahlen 3 rotor Mazda RX8 that day were Dane Cameron and Wayne Nonnamaker. Wayne shared his thoughts on that experience – "We had come so close so many times to winning with the RX8, and to break through and secure the victory at Mazda Raceway – Laguna Seca is a memory I will never forget. All of the California based Mazda Corporate Headquarters staff were present for the race. And then to be able to deliver to them this last memorable rotary victory at their home track was such a wonderful experience."

Fast forward to 2017, and Team Sahlen is continuing this winning tradition with Rotary Power. With no current model of Mazda being built with rotary power, Team Sahlen has turned a page back in time to racing a fleet of 3 Mazda RX7s with rotary power. The team is currently racing in 3 new North American Endurance Sports Car Series – World Racing League, American Endurance Racing and ChumpCar.

During last season, Team Sahlen secured a 1st and 2nd place Overall victory at the World Racing League's "Black River Blast" event at Gingerman Raceway. Then 4 weeks later Team Sahlen entered the ChumpCar "Cookie Cutter Classic" and secured another Overall victory.

Driver Will Nonnamaker shared his thoughts - "Whether it's a 2 or 3 rotor, there is nothing better than hearing the wind up blast of a rotary motor. We have been a Mazda racing family for over 3 decades now. There has been such a large variety of Mazdas we have raced: Mazda RX8 GT, Mazda RX7, Mazda MX6, Mazdaspeed3, and Mazda RX8. But not only do we race Mazdas, but our company fleet vehicles of 30+ are all Mazdas. In fact, we are so nuts about our Mazdas that we recently bought back our 1999 Championship winning Mazda MX6 off of Craigslist to have in our race car collection."

With the recent tour of the new Mazda RX-Vision show car at this past winter's car shows, there is the strong likelihood of a rotary powered race car on the track in the future. And when that time occurs, don't be surprised if one of those rotary race cars competing for victory on track is a Team Sahlen racer.