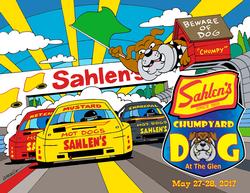 Posted (04/26/2017) -

For the 2nd year in a row, Sahlen's will be sponsoring the ChumpCar World Series event at Watkins Glen International – titled as the "Sahlen's Chumpyard DOG at the Glen."




In the world of racing, Memorial Day weekend is known for some classic events such as the Indianapolis 500 and the World 600 at Charlotte Speedway. Currently, ChumpCar has been holding an event for only a few years on Memorial Day weekend at Watkins Glen International. Although far from being mentioned in the same breath as the 2 classics held on this date, for many weekend race warriors, the Sahlen's Chumpyard DOG at the Glen is a true event to mark on their calendar.




The event has gotten bigger each year, with exponential growth in entries. In 2015, a full grid of 75 race cars took the green flag. Then last year, 100 entries were gridded on the start line. This year's event is again looking to be a full grid of Chump Racers taking the green flag under the Sahlen' bridge on the front straight away.

The race weekend will officially kick off on Friday, with Sahlen's hosting that evening's tailgate party. Then on Saturday, the 1st of the weekend's 7 hour Endurance races will commence at 9 am. Sunday will see the Chumpcar racers line up again for another 7 hour Endurance Race. At the conclusion of each day's races, the winners will be honored on the victory stand as "TOP DOGS"!

After racing in his 1st Chumpcar event 2 years ago at Watkins Glen, Joe Sahlen and his son Joseph Sahlen of Sahlen Packing has thoroughly caught the Chumpcar bug and become entranced by the passion and camaraderie of this ever growing race series. Since that time, Team Sahlen has expanded from 1 to 3 Mazda RX7 racers. In last year's event of 100 racers, Team Sahlen was leading the Sunday event until 10 minutes to go when a fuel cut derailed the team's chance at victory circle. Now the Team Sahlen is back to race again in this year's Sahlen's Chumpyard Dog at the Glen" event.

Joe Sahlen shared his thoughts leading up to this year's event – "We are very excited to again be partnered with ChumpCar here at the Glen. I really enjoyed racing with the series the past 2 years at Watkins Glen. These events are quite the experience, especially here where there will be almost 100 cars on track at once racing for 7 hours at a time. The series is all about having fun with your friends and family, and that what Sahlen's Hot Dogs are all about."

ChumpCar World Series' Michael Chisek shared his thoughts on partnering with Sahlen's Packing Company - "ChumpCar is excited to have Sahlen's returning as the event sponsor for our Watkins Glen race. Sahlen's has been a long term supporter of events at Watkins Glen, with the Sahlen's Six Hours of the Glen. And now the Sahlen's Chumpyard Dog at the Glen is soon becoming one of those memorable events held each year at this classic road course."

Earlier in the fall, Sahlen's also presented the opening race event at Watkins Glen International – the "Sahlen's Sports Car Springfest at the Glen" with the American Endurance Racing series. The event held on April 22nd – 23rd was a resounding success with over 80 racers taking the green flag for the dual 9 hour events on Saturday and Sunday. The capstone to Sahlen's involvement with Watkins Glen International will be the 15th edition of the Sahlen's Six Hours of the Glen. This partnership, dating back to 2002, is the longest running entitlement sponsorship at the Glen. The Sahlen's Six Hours of the Glen event hosts the WeatherTech Sports Car Championship series. Additionally this event is 1 of 4 races that encompass the Tequila Patron North American Endurance Championship. The additional 3 events include the ROLEX 24 Hours at Daytona, the Sebring 12 Hours and the Petit LeMans at Road Atlanta. These 4 events combined are part of the elite top Endurance races that are held worldwide each year.

Sahlen Packing Company

Sahlen Packing Company, a leading producer of premium quality meat products in Western New York, is known for their high quality hot dogs, sausages, and deli meats. Founded in 1869 in Buffalo, New York as a family business, Sahlen's continues to be the name behind Western New York's favorite hot dogs.

ChumpCar World Series presented by RVA Graphics&Wraps

ChumpCar is North America's home for REAL, AFFORDABLE, COMPETITIVE road racing. This is real racing, real tracks and real cheap cars! These are endurance races that range from 7-hours to 37-hours long!

ChumpCar was developed for gear-heads; for people who love driving and driving fast. It's not about gimmicks or theatrics. It's not about spending buckets of money, either. Rather, it's for Chumps like you that have always wanted to go road racing without all the hassles or huge rule books or obscene expense. It's about 'Joe Average' and almost-race-ready cars. ChumpCar is a throw-back to the era when racing was fun and cheap... when Bondo beat carbon-fiber; when a crescent wrench was the most valuable tool in your box; when home-made engineering made everyone sit up and take notice; and when adding a little theme to your car didn't get you laughed off of pit lane.

Watkins Glen International

Located within five (5) hours (~300 miles) of 25% of the US population, Watkins Glen International is the premier road racing facility in North America, recently voted "Best NASCAR Track" by readers of USA Today. Keep up with The Glen on Facebook and Twitter. Download The Glen's free mobile app from the App Store or Google Play.