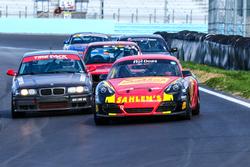 Posted (04/12/2017) -

Team Sahlen will kick off their 2017 race season at Watkins Glen International. The event will be the "Sahlen's Sports Car Springfest at the Glen" with the American Endurance Racing series. Team Sahlen entered the event in 2016. The race saw Team Sahlen secure a 1st place finish overall in Saturday's 9 race. Then in Sunday's race, Team Sahlen finished just off the top step on the podium, finishing 20 seconds out of the lead after 9 hours of racing.




For this weekend's race, Team Sahlen will be entering all three of Porsche Caymans in the Top Overall Group 5 premier class for the fastest cars in the series. This class has become very competitive with several fast teams and cars entering the race for overall honors. Some of the makes include BMW, Corvette, Audi, and Ford Mustang. It will be no easy task for Team Sahlen in this event.




Will Nonnamaker shared his thoughts leading up to this weekend "This is our 3rd year racing in American Endurance Racing. In that time we have seen the series grow in both quantity and quality of teams on the track. We had a close battle here last year for the overall victory. And we expect nothing less than stiff competition this year as well. We have been working hard in the off season to be prepared. We have worked on several improvements to our Caymans in the off season, and hope to be able to see those efforts pay off at the conclusion of each day's 9 hour endurance race."




The last time Team Sahlen was on track was at the 2016 American Endurance Racing season finale at Mid-Ohio Sports Car Course. Team Sahlen faced some fierce competition at this event. On both days of racing, Team Sahlen secured 2nd place overall.




Drivers for the weekend will be Joe Sahlen and Joe, Wayne & Will Nonnamaker. Joe Sahlen shared his thoughts leading up to the weekend, - "I am very excited about this weekend. Watkins Glen is my home track. I am excited to get back on track racing this year, and to drive our enhanced Porsche Caymans at the Sahlen's Sports Car SpringFest at the Glen event."




Wayne Nonnamaker added his thoughts to the upcoming weekend – "There are over 78 cars entered for the race at Watkins Glen. There was strong competition last year at Mid-Ohio Sports Car Course. And this upcoming American Endurance Racing event looks to have even a deeper field of race cars that Team Sahlen will need to compete against for the overall victory. It will be a tough weekend, but I am confident in our team executing both on the track and in the pits to be there at the end of the race to contest for the top spot on the podium."

2017 Team Sahlen Campaign Partners

eEuroparts.com, Tarett Engineering, Guard Transmission, Porsche of Beachwood, Pittsburgh International Race Complex, HubstandsPRO, Brothers Grimm Landscaping, NGK Spark Plugs, CM Racing Products, Mothers Polishes, Grassroots Motorsports Magazine, Design Engineering Inc., Hard Brakes, Forgeline Wheels, Alcon Rotors, Lamin-X, Optima Batteries, Mazdaspeed, MSI Racing Products, Winding Road Racing and TheRaceSite.com.