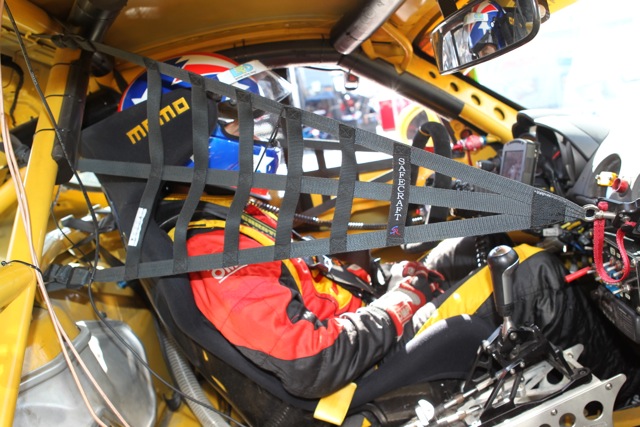 Posted (05/21/2005) -

In NASCAR, there are the short ovals such as Bristol, that are known for their close action and tight fender to fender action. For the Continental Tire Sports Car Challenge, Lime Rock Park's 1 mile road course is their Bristol. With 31 entries in the ST class, the action will be exciting on track for both the drivers and the fans. This is especially true, since the ST class will be in their own race, without the faster GS class. This means that whomever wins the race, wins it overall. Additionally, with cars not going out on track until Friday at 10:45 am, and the race starting at 9:10 am Saturday, there will be a short amount of time to get everything right. In fact, from the time that cars 1st go on track, till the completion of the race is exactly 24 hours!

For Team Sahlen, preparation for the event will be crucial. The crew will need to have the #42 & #43 ST class racers ready to go as soon as they unload. Kate Crawford and her engineering team will need to have their set ups very close. And the drivers will need to have their lines down for the short 1 mile road course.

"We have been driving the iRacing game on our SimXperience system at home a lot just to get ready for this weekend. You need to be ready to go as soon as you hit the track this weekend. There is not time to mess around. There is hardly time to look at data and watch film, let alone download and work on set up." – shared Team Sahlen driver Will Nonnamaker

Will will be sharing the #42 racer with his brother Wayne Nonnamaker. The duo had a difficult time at the recent event at Mazda Raceway Laguna Seca, where a weird pit lane with GS cars in the Sahlen's pit stall saw the duo struggle to pit when their fellow ST competitors did. This resulted in a disappointing 10th place finish. The duo hope to bounce back this weekend for a Top 5 result.

In the #43 entry will see the return of Joe Sahlen behind the wheel after a 1 race hiatus. He will be co-driving with Joe Nonnamaker, father of Will & Wayne. Some of Joe's finer finishes in pro racing have come at Lime Rock Park. This includes several Top 10 results in the ROLEX GT series, with a 7th place in 2007 in the team's Chevrolet Corvette as a highlight.

The Lime Rock ParkThe race will at 9:10 am on May 23rd. With race will be an ST class only event, and with 31 cars on the short road course, the action should be action packed.

2014 Team Sahlen Campaign Partners:

Turbo Performance Center, Tarett Engineering, MOMO, Guard Transmission, Forgeline, Porsche of Beachwood, Pittsburgh International Race Complex, HubstandsPRO, MSI Racing Products, NGK Spark Plugs, TheRacingInsiders, CM Racing Products, Mothers Polishes, Winding Road Racing, Grassroots Motorsports Magazine, Maxima Oil, CV Products, Design Engineering Inc., Hella, Racing Print Media, Hard Brakes, CRC Chemicals, Penske Shocks, PFC, Lamin-X, Optima Batteries and TheRaceSite.com.