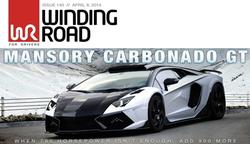 Posted (05/26/2014) -

Team Sahlen is very excited to be partnering with Winding Road Racing for the 2014 race season. The site is a unique blend of an online digital magazine and shopping mall for motorsports enthusiasts. Unique articles include; comparing the Porsche Boxster GTS to the Cayman GTS, Getting started in Road Racing series, the fabulous Koenigsegg One test drive. Additionally, the site has a full store for your racing needs, including: Action Cams, Gloves, HANS, Helmets, Seats, Shoes, Suites and Race Apparel.

Team Sahlen driver Will Nonnamaker shared his thoughts – "Although they have been around for over a decade, Winding Road Racing has really made a big splash in the past year. We are excited to be a part of this growing evolution of the site. With the site being based out of Austin, Texas, we are excited for when we go to the Circuit of the Americas later this year, and have the entire staff out as our guests."

Whether it's the intensity of competitive racing or the exhilaration of a cutting edge supercar, the essence of our mission here at Winding Road is to bring you experiential encounters of driving great cars on great roads.



Winding Road Racing are genuine enthusiasts and competitors who are passionate about the art of driving. Since 2005, Winding Road Racing has been translating that passion into the knowledgeable insight you'll find within the pages of our digital magazine and WindingRoad.com. From our motorsport chronicles, gear guides and tech tips, to our real-world car reviews and coverage of all things compelling in the automotive world, it's that enthusiasm which separates Winding Road from the rest of the pack.

Winding Road Racing

8868 Research Blvd. -Suite 108
Austin, Texas 78758

Phone:

734 485 2336

E-mail:

Web Site:

2014 Team Sahlen Campaign Partners:

Turbo Performance Center, Tarett Engineering, MOMO, Guard Transmission, Forgeline, Porsche of Beachwood, Pittsburgh International Race Complex, HubstandsPRO, MSI Racing Products, NGK Spark Plugs, TheRacingInsiders, CM Racing Products, Mothers Polishes, Winding Road Racing, Grassroots Motorsports Magazine, Maxima Oil, CV Products, Design Engineering Inc., Hella, Racing Print Media, Hard Brakes, CRC Chemicals, Penske Shocks, PFC, Lamin-X, Optima Batteries and TheRaceSite.com.