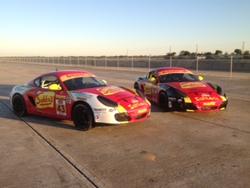 Posted (03/10/2014) -

Team Sahlen worked very, very hard to build 2 Porsche Caymans into race cars in a short 60 day window. This hard effort paid off at the season opener at Daytona with a 4th place finish. This was topped off with the bonus of a Fastest Race Lap from great drafting in traffic.

Once the crew got home, the debriefing and download between crew, drivers and engineers allowed for many insights and future directions to reveal themselves. This allowed for the next step for Team Sahlen of further developing the #42 & #43 into potential podium and possible race winner during the 2014 season.

Although the cold winter months in Ohio have not allowed for any on track testing, Team Sahlen has not been idle in this down period of time.

"The crew has been very busy diagnosing how we can make things better at Sebring. We have been on the phone with Kate Crawford, team engineer, every week, working through the development process. I am sure it will take some on track testing throughout the spring to get the final tuning in of the suspension, but we are very excited by the progress we have made so far." – shared Jay Chapman – Team Manager

The Driver Lineups for Sebring will be the pairing of the brothers Wayne & Will Nonnamaker in the #42, and Joe duo of Joe Sahlen and Joe Nonnamaker in #43.

"I am excited to be to Sebring International Raceway. Although we just tested here in January, it has been since 2000 that we last competed here. This track holds a sentimental place in my heart because I won my 1st Professional race here in 1999. And that event was with Wayne as my co-driver. We were one of the youngest driver pairings in the series at the time, with an average age of 24. Now at 39 average age, we are more the grizzled old veterans than the young guns." – shared Will Nonnamaker

Added Joe Nonnamaker – "Well, if Will thinks he and Wayne have a high average age, he has nothing on Joe and myself. Our average age is 63 years. There are some driver line up in the ST class who's combined age isn't even 63. Joe and I qualified well at Daytona with a 15th starting slot, then ran into troubles in the race. I believe that we can have a very nice event here, keeping it clean to the finish and seeing where we end up.

The Continental Tire Series Sports Car Challenge event at Sebring International Raceway will be 1 pm on Friday March 14th. The event will be telecast taped delayed on FoxSports2.

2014 Team Sahlen Campaign Partners:

Tarett Engineering, MOMO, Guard Transmission, Forgeline, Porsche of Beachwood, Pittsburgh International Race Complex, HubstandsPRO, MSI Racing Products, NGK Spark Plugs, TheRacingInsiders, Mothers Polishes, Grassroots Motorsports Magazine, Maxima Oil, CV Products, Design Engineering Inc., Hella, Racing Print Media, Hard Brakes, CRC Chemicals, Penske Shocks, PFC, and TheRaceSite.com.