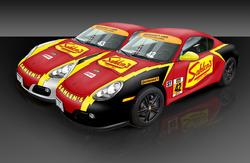 Posted (12/24/2013) -

2014 marks the 30th Anniversary for Team Sahlen competing in Professional Sports Car Racing. And to commemorate this historic mark, Team Sahlen will be returning to their roots to compete in the Continental Tire SportsCar Challenge. The team will be entering the ST Class with the newly classified Porsche Cayman. Team Sahlen will be campaign 2 entries full time in the 12 event circuit. Drivers for the #42 & #43 ST entries will be Joe Sahlen, Joe Nonnamaker, Wayne Nonnamaker & Will Nonnamaker

"I am very excited for 2014. We had a very successful maiden season with the Prototypes last season. We were new to the class, going up against some very professional Sports Car Teams with years of experience in the DPs. And to have had the success we did was very rewarding. I very much enjoyed our decade plus adventure in racing in the ROLEX series. Now a new chapter begins with our full time entry into the Continental Tire SportsCar Challenge. The competition will be tough and we are excited to mix it up with the ST teams on track." – shared Joe Sahlen

For the past Decade, Team Sahlen has competed in the ROLEX Grand American Sports Car Series. In that series, the team contested both the GT and Daytona Prototype Classes. Types of race machinery ranged from Porsches, to Corvettes to Mazdas and BMW Prototypes. Success was had on track with 3 GT class race victories, numerous poles in both classes, and as well as winning the Bob Akin GT Sportsman Award (2005 & 2011) and the Jim Trueman DP Sportsman Award (2013). Now the team will come full circle and be re-entering the Continental Tire SportsCar Challenge ST class where the team got their start in 1984 with a VW Golf. Since that inaugural season, Team Sahlen has accumulated a record in the Continental Tire SportsCar Challenge to rival all teams, past and present. This record includes 7 Team & Driver Championships, and 50 Victories. Along the way were some unique distinctions, such as winning both ST and GS classes in the same weekend, Entering 5 cars in one race, and securing 4 consecutive championships in a row.

A majority of the team's 30 years of racing has been spent within the ST Class. During that period of time in the ST class, a vast array of machinery has been utilized to achieve the 5 Driver's Championships and 40+ race victories. This list includes VW GTI, VW Corrado, Mazda MX-6, Acura Integra, Dodge SRT-4, Mazda RX-7 and Mazdaspeed3. One driver who is more familiar than most with the ST Class is Team Sahlen driver Will Nonnamaker – a 3X ST Driver champion and the all time leader among active driver in series history in starts – "I have truly enjoyed getting to race the many types of different classes and cars we have raced over the past decade, but my I have always had a fondness for the ST class. To get to come back to the class and compete full time is very exciting. And to be coming back to the class with such a strong effort is a dream come true. The competition will be tough, but I think our team will be up to the challenge."

Although Team Sahlen has won titles in the ST class, and as well racing Porsches to many race wins and titles, this is the 1st time the team will be racing Porsches in the ST Class. Previously, the team had only campaigned Porsches in the GS class and the Grand American ROLEX GT class. This link with the Stuttgart brand resulted in 13 victories. Wayne Nonnamaker, a driver champion in both the ST & GS classes, shared his thoughts on Cayman entry, - "Having been away from racing Porsches for so long and the Cayman being so different from a 911, I didn't think much of our knowledge base would transfer to these new cars. But I have been pleasantly surprised at what pieces of past information has been useful in the build process. I can't wait to drive the Cayman. With its mid-engine layout vs the rear engine of the 911, the racer should be a pure joy to drive."

The ST Class is filled with many strong driver line-ups and solid crews backing them up. For Team Sahlen, the task of getting to the front will not be a guarantee. Thankfully, the entire crew that engineered and worked to bring Team Sahlen success in the Prototype class in 2013 of 2 Pole Positions, lead 108 laps and secure 2 Fourth Place finishes will be returning in whole. This will be led by Team Manager Jay Chapman. The Engineering side of the team will be led by Kate Crawford, who will be celebrating her 5th season with the team in 2014.

Joe Nonnamaker added his thoughts - "I am very happy to have our full crew back for 2014. Jay Chapman has done a fantastic job in the short amount of time we have given him to make the transition from the Daytona Prototypes to building the Porsche Caymans. The entire crew has jumped into this with both feet, getting us moving forward for the season ahead. As well, everyone here at Team Sahlen is very excited to have Kate Crawford back as our Lead Engineer. She was instrumental in our success with the Mazda RX-8s and the BMW Powered Prototype, and would expect her magic touch to have the same effect on our ST Class Porsche Caymans."

Several great Corporate Partners will be returning with Team Sahlen in their 2014 Campaign. This list includes: Alcon Rotors, CM Racing, Design Engineering, Inc. Grassroots Motorsports Magazine, Maxima Oil, Mothers Polish, MSI Racing Products, Penske Shocks, CV Products and Racing Print Media

And as well, Team Sahlen is proud to announce that several new partners have come on board for the 2014 campaign, including: BGB Motorsports, MOMO, Porsche of Beachwood, and Tarett Engineering.

Stay tuned for more upcoming news on Team Sahlen's 2014 Campaign in the Continental Tire SportsCar Challenge.