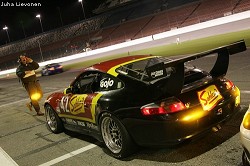 Posted (01/23/2007) - Team Sahlen's has some familiar faces as well as some new additions going behind the wheels and racing their two HRPWorld.com sponsored Porches in GT at the ROLEX 24 Hours At Daytona.

Drivers of the #41 Porsche include Jim and Bob Michaelian, Robb Brent , Tom Malloy and Ernie Becker.

The father/son duo of Jim and Bob Michaelian are no strangers to Team Sahlen's. They shared a Team Sahlen Porsche 996 in the Grand Sport season finale at Virginia last fall. Driver Joe Nonnamaker seems confident in what the two can do at the 24 Hours.

"Jim has driven with us in both the ROLEX 24 Hours and the Sahlen 6 Hours. And we're excited that they have joined us here in Daytona. I'm sure they'll do very well in our Porsche throughout the entire race."

Also driving for Team Sahlen's in the #41 Porsche is another driver who has had experience with team, Robb Brent. Robb drove with the team last year at Mid-Ohio. Through this experience, the team got to know the Brent family and consider them a welcome addition to the 24 Hours team. Team Sahlen's members see Robb's impressive lap times during practice tests in Daytona as a good indication of what he can bring to the team.

Tom Malloy is a brand new addition to the team. His previous experience at the 24 Hours At Daytona make him a good fit for Team Sahlen's and a welcome asset on the course.

The final driver of the #41 Porsche is Ernie Becker. Ernie has competed in the Elf/Winfield Pilote Competition as well as established himself in the Skip Barber Formula Ford Series, qualified for the Series Race of Champions and test for the Barber/Saab Pro-Series. In 1992, Ernie captured the SCCA Formula Vee Championship. Throughout the years he had continued to race impressively while displaying a great amount of skill and respect for racing.

Taking the wheel of the #42 Porsche are all newcomers to Team Sahlen's.

Drivers of the Porsche are Michael Auriemma, John Mayes, David Kaemmer, Chris Wilcox and Matt Varsha.

But they don't go without experience and Team Sahlen's driver Wayne Nonnamaker saw the potential of Auriemma, Mayes, Kaemmer and Wilcox first-hand during recent practice tests.

"This group of four drivers did a good job adapting to our Porsches during the recent test. They all have background in open wheel cars and have adapted well to sedan style racing."
Matt Varsha, son of world famous Motorsports announcer Bob Varsha, will join those four. A good racer in his own right, Matt finished in 4th place in the Skip Barber Nationals in 2005 with an overall record of 1 win, 8 podiums, 9 top-five, 11 top-ten and 4 pole positions in 14 races.

In all, the lineup of the Porsche #41 and #42 cars is a great collection of both new and familiar drivers - all committed and ready for the ROLEX 24 hours.

Team Sahlen's races with the support of HRPWorld.com, GOJO, Kempthorn AutoMall, HAWK Performance, Forgeline, Cool Suit, TheRaceSite.com, TheRaceMarket.com, Grassroots Motorsports, HOTSEAT, Holliday Canopies, CORSA, Alcon, CM Racing, Endurance Karting and Racetech Seats.