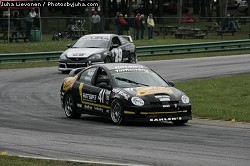 Posted (01/23/2007) - Team Sahlen's along with Trench Shoring Support, will be campaigning three cars in the upcoming Koni Challenge Series, originally the Grand Am Cup Series, at Daytona International Speedway.

The team will be racing full time in the Grand American Rolex Series with their two HoerrGBM built Team Sahlen Corvettes. The team will also be competing in select races in the Koni Challenge. The team has chosen the Daytona race as one their select races.

This is a switch for the team. Last year, Team Sahlen's ran the entire Koni Challenge Series and ran a select Rolex Series events.

Driving in this year's Daytona race in the #03 Dodge SRT-4 will be Joe Sahlen and Will Nonnamaker. Both drivers raced in the Dodge last year and anticipate great things for the car, especially around the high banking of the Daytona track.

Taking command of the #04 Porsche 996 will be Mike Canney and Wayne Nonnamaker. Mike, a new driver to the team, is expected to have a very strong finish. Mike Canney is behind Mike Canney Motorsports, LLC that was founded in 2002. His experience and his knowledge will be a big advantage for the team as soon as he hits the track.

Ernie Becker and Joe Masessa will be racing in the #05 Porsche 996. Ernie is a skilled racer who has many accomplished races and wins under his belt including a SCCA Formula Vee Championship in 1992.

The team also welcomes back Joe who is returning to Team Sahlen's after taking the 2006 season off from the team. Both the drivers and crew look forward to picking up right where they left off.

Team Sahlen's races with the support of HRPWorld.com, GOJO, Kempthorn AutoMall, HAWK Performance, Fikse, Cool Suit, TheRaceSite.com, TheRaceMarket.com, Grassroots Motorsports, HOTSEAT, Holliday Canopies, CORSA, Alcon, CM Racing, and Racetech Seats.