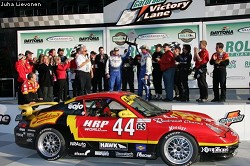 Posted (11/24/2006) - Team Sahlen is most entered team in 2006 Grand-Am Cup season

For the 4th straight season, Team Sahlen has set the mark for the most entered team in Grand-Am Cup competition. During 2006, Team Sahlen entered 40 race cars during the 10 event season. Team Sahlen entered Porsches in the Grand Sport Class, as well as the #41 Dodge SRT-4 in the Street Tuner Class.

Several strong runs, including a victory in the season opener at Daytona, allowed Team Sahlen to assist Porsche in securing the Grand Sport Manufacture Crown. This was the 3rd GS Manufacturer Crown for Porsche that Team Sahlen has had the honor of assisting, including the 2003 & 2004 seasons.

The Dodge SRT-4 was long thought of to be a threat in the Street Tuner class, but never had the results to show for the promise. In 2006, Team Sahlen fulfilled that promise, with several strong runs for the little 4 door. The #41 Dodge qualified 3rd at both Mid-Ohio and Miller Park. In addition, the race car known for its straight line speed, proved to be a match on the tight and twisty Trois RIvieres street circuit, claiming 7th place, and the Bernheim Most Improved Position Award.

For the record, Team Sahlen entry list total for the 5 year history of the Grand-Am Cup is:
2006 = 40
2005 = 43
2004 = 40
2003 = 46
2002 = 36
Total = 205

The 205 career team entries is only 2nd to the all-time Grand-Am Cup entrant leader - SpeedSource, who has 208 career entries.

The 40 races entered does not include Team Sahlen's 6 entries in the ROLEX Sports Car Series. The combined 46 events run under both Grand American Sanctioned series in 2006 is 2nd only to Synergy Racing's 54 for the season.

"I am so thankful for our crew on Team Sahlen. To lead the entrant total for 4 straight years says a lot about the dedication and perseverance of everyone at Team Sahlen."
- states Team Sahlen Crew Chief Mike Thomas

For 2007, One thing is guaranteed, some persistent team, besides Team Sahlen will be the most entered team in the Grand-Am Cup (now known as the Koni Challenge Series). Team Sahlen will be focusing entirely upon the ROLEX GT class with their 2 brand new Chevrolet Corvettes and 2 reliable Porsche GT3 Cup race cars.

Team Sahlen's 2006 Grand-Am Cup campaign was supported by HRPWorld.com, GOJO, Kempthorn AutoMall, HAWK Performance, TheRaceSite.com, TheRaceMarket.com, Grassroots Motorsports, HOTSEAT, Holliday Canopies, CORSA, Alcon, CM Racing and Racetech Seats.