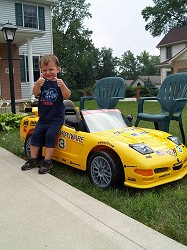 Posted (11/22/2006) - The newest member of the Nonnamaker family, young Ian has been busy all fall assisting the team in testing and developing the new Corvettes that will be raced in the 2007 ROLEX Sports Car Series.

The Yellow Corvette that Ian drives is a "Pratt & Miller" built race car. The team purchased the car in the summer, with the hope of getting Ian some seat time in the fall. This particular Corvette is a hybrid, running strictly on electricity.

Currently, Ian's seat time has been limited to drives around the driveway in the neighborhood where he lives with his Mom and Dad. This is partially due to the fact that the car only goes 5 mph. But mainly it is due to Ian only being 3 years old.

This age limitation has not stopped Ian from digging into the mechanics of the Corvette. Often after a thorough test run, Ian uses his handy pit jack to get underneath the ZO6 and tune on the suspension. So far, toe in or toe out does not seem to make a difference on his lap times. Although the grass in the yard does seem to be a hinderance.

Stay tuned for more development plans for the newest member of the Nonnamaker racing family.