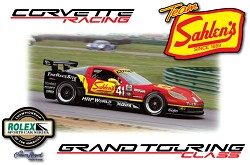 Posted (08/10/2006) - Watkins Glen, NY : Team Sahlen will be making a full time return to the Grand American ROLEX series with two Chevrolet Corvette ZO6 race cars in the Grand Touring (GT) Class.

"Everyone at Team Sahlen is very excited about our two car GT class Corvette campaign for 2007. "We accomplished our goal in GT in 2005 by winning the Bob Akin Award. We have spent most of 2006 making preparations for a strong effort in 2007. Today represents the accumulation of those efforts. We plan to shake down the Corvettes at the Rolex Winter Test Sessions held on the 4th, 5th and 6th of January at Daytona International Speedway," commented Joe Sahlen

Team Sahlen currently competes full time in Grand American's Grand-Am Cup series for street production race cars. The team won the season opener at Daytona in the Grand Sports class and is currently 7th in the Team Championship.

The Corvette has a long history in sports car racing, dating back to the1950's. The ROLEX Grand American series has witnessed several of those wins, including an overall victory at the 2001 ROLEX 24 Hours.

Sahlen's believes very much in the ROLEX Grand American Series. The GT class has a very bright future and we are proud to be a part of that growth. Beyond our racing program, we will continue with our partnership with Watkins Glen to sponsor the Sahlen's 6 Hour event for the 5th straight year. Additionally, Sahlen's will be the presenter as well as provide our high quality meats to Grand American's Paddock Club Hospitality Suite," added Joe Sahlen.

Drivers for the Team Sahlen Corvettes will be Joe Sahlen, Joe Nonnamaker, Wayne Nonnamaker and Will Nonnamaker. Combined, the drivers represent 4 professional Driver Championships and 30 professional wins.

The Team Sahlen Corvettes will be prepared by Phoenix Promotions. Currently Phoenix Promotions prepares Team Sahlen's fleet of 9 Grand American racers. Phoenix Promotions has been in Professional Sports Car racing since 1984. During that span, Phoenix Promotions has recorded 7 Team Championships, including a record 4 in the Grand-Am Cup.

The Corvettes will be based upon Grand-American's prep 2 class rules for the GT class. The Chassis will be designed by Hoerr Racing Products with production of the cars at Georgian Bay Motorsports.

Sahlen Packing, Co., Inc. is based out of Buffalo, New York a short drive from where the company first stepped into Grand American Road Racing. In 2003, the premium and quality meat producer sponsored the Sahlen's Six Hour held at Watkins Glen International. Sahlen's also feeds the ever-hungry crew members and drivers that participate each weekend in Grand American Road Racing events. Grand American participants find the "Sahlen's Paddock Club" a comfortable setting for a warm meal during the hectic race weekends.

Over the years Sahlen's has discovered what it takes to be the premier hot dog of western New York, and a favorite of hot dog lovers across the country. Opening as a family owned company in 1869, Sahlen's remains family owned to this day. Although most of the company's business is based out of New York, the company has been selling their products such as turkey breast or ham in nearly two dozen states.

Team Sahlen enters the 2007 season with support from their long term corporate partners: HRPWorld.com, Kempthorn Automall, GOJO, HAWK, TheRaceSite.com, Grassroots Motorsports Magazine, Genesis Technologies, Racetech, Hot Seat Chassis, Holliday Canopies, Corsa, Gateway Event & Conference Center, Sahlen Sports Park.