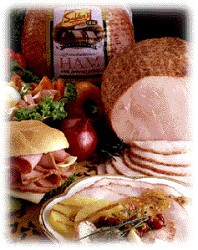 Posted (06/01/2005) - The Nonnamaker Family recently toured the Sahlen Factory on the way to the Mont Tremblant 6 Hour event.

The Sahlen Packing Company was founded in 1869 in Buffalo, New York as a family business. Company founder Joseph Sahlen dedicated himself to one guiding principle: only the freshest and highest quality meat products would bear the proud Sahlen name.

Today - in additiona to being the name behind the Buffalo area's favorite hot dogs and holiday hams, Sahlen's has grown from its Western New York roots to offer their "Old Fashioned" Smokehouse Ham and Turkey Breast in over 15 states.

Mr. Sahlen represents the fifth generation in the family business. And present during the Nonnamaker family visit was Joe Sahlen, his wife Anita, and their son Joseph and daughter Alex. (Son Billy - having just graduated High School, was on his senior trip).

The Nonnamaker family was able to see the entire process; from receiving docks, to the processing, final product, and packaging.

The manufacturing of Hot Dogs has come a long way. At the entrance of the Factory, Mr. Sahlen showed us two pieces of equipment of what was used in the very beginning to make a hot dog. Comparing that to the processes that we saw inside the factory was fascinating. An example of this is the scientific approach of taking regular samples of each Hot Dog and X-Raying to ensure quality control.

"What an amazing facility the Sahlen Factory is. The aspect that fascinated me the most was their computer program used to ensure that each customer's order is processed in a precise time line" states Wayne Nonnamaker

Sahlen's not only produces Hot Dogs, but line also includes Polish Sausages, Italian Sausages, Hams, and Turkeys.

The tour was capped off with what else...lunch with the Sahlens that included Hot Dogs, Polish and Italian Sausages.