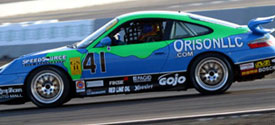 The 2003 season was a remarkable season for Joe Nonnamaker. Coming into the 2003 season expectations were high for Joe. In 2002 he won overall in the Grand Am Cup Grand Sports I class driving the #43 Planet Earth Motorsports Chevrolet Corvette and now he would be moving into the Porsche.

The 2003 season would see Joe drive the #41 Planet Earth Motorsports Porsche. The car was the exact same machine that took Sylvain Tremblay and SpeedSource to the 2001 Grand Sport title. The 2003 season would also mark the first time Joe had ever co-driven with one of his sons for an entire season as he paired with younger son Wayne for the season.

The season started off with a victory at Daytona International Speedway. In the first four races Wayne and Joe took home three wins to secure a large lead in the Points Championship. The season continued to roll along well for the duo as they scored eight podiums and four wins to claim the Title over Terry Borcheller and Forrest Barber, who were driving for the Bell Motorsports program.

In addition to his primary focus of winning the Grand Am Cup Grand Sport title, Joe also ran select events in the Grand Am Cup Sport Touring and Grand American Rolex GT classes. In Sport Touring he teamed with Wayne to score a win at Watkins Glen in the wet. Joe teamed with older son Will to score three top five finishes in the Grand American Rolex Series at Barber, California, and Mont Tremblant.

In 2004 Joe had a dream season as he got to co-drive with both his sons in different series. In the Grand Am Cup Series he co-drove with his son Wayne to five top five finishes and a best finish of third at Barber Motorsports Park. Their efforts helped score the team a 1-2 finish in the Team Championship and also aided Craig Stanton in his Championship season with the Nonnamaker owned Phoenix Promotions effort.

In the Rolex Series Joe co-drove with his son, Will. Together Joe scored a fourth place finish in the Grand Am Super Grand Sport class while placing the team in third place in their first season in Rolex competition.

The 2005 season saw Joe continue to compete in both the Grand Am Cup and Grand American Rolex Series. The team had a strong run in Grand Am Cup, leading more laps than any other Porsche effort. The highlight of the season came when Joe and his son scored a third place finish at Mid Ohio in front of their hometown crowd.