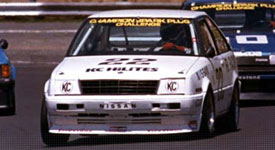 From 1982 to 1986 Joe Nonnamaker was working with Nissan to develop the Nissan Stanza for the IMSA International Sedan Series. The series was very much similar to the SCCA World Challenge Touring class of today.

When Joe first got into the IS series, the cars were somewhat near their stock counterparts. As the series progressed, so did the rules of what was allowed. The cars began to become more and more exotic and costs began to grow and grow. At the time Joe owned the team he was driving for, RR Racing, and the team was successful for the amount of funding available.

The series became a playground for factory efforts. Nissan wasn't prepared to support the effort with the million dollars that Chevrolet was putting into the series so Joe helped progress the car along out of his own pocket. While the car was begining to become very competive, the series was becoming so that you had to have custom gear boxes, custom this, custom that, and the cost of building a car to win began to be only affordable to the factories and a few very well funded privateer efforts.

After four years of developing the Stanza, Joe decided to take a sabatical to focus on work. The Stanzas proved to be an excellent place for Joe to learn how to setup a car, how to engineer a car, and how to run a professional race team, but ultimately the class was too expensive for the funds available.

In 1989 Joe returned from his sabatical to test the waters of the IMSA Firestone Firehawk series.