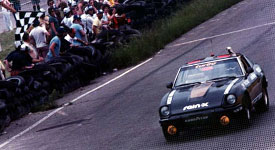 Joe made an attempt with an automatic gear box at the Nelson Ledges 24 Hours in 1981. An automatic transmission in racing is a very odd idea, but that is what Datsun wanted Joe to run, so he and his crew developed the car for the 24 hour race.

Two Datsun (now called Nissan) 280 Zs were given to Joe to run in the Nelson Ledges 24 Hours. The only concern with the cars were that they were an automatic gear box. Joe pressed on despite the complication and entered the Datsuns in the 1981 Nelson Ledges 24 Hours.

In 1981 the effot saw Joe score a fourth place overall finish in the race and a third place in class. While the Automatic tranny held together, the lack of the engine slowing the motor down caused the brakes to wear too quickly. Joe pushed for a manual transmission car from Datsun for 1982.

Getting his wish Joe received a Manual transmission 280 Z for the 1982 attack on the Nelson Ledges 24 Hours. While the manual was easier on the brakes, a new co-driver was not. One of the co-drivers pounded on the brakes too hard and the car lost all rear brakes during the race. The team had to come home to a fourth place in class and fifth place overall finish.

Joe's relationship with Datsun / Nissan developed in 1983 and Joe moved into the IMSA International Sedan Series to develop a two car Nissan Stanza program.