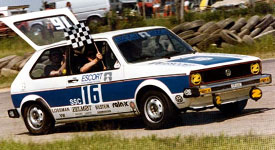 After getting used to the VW Rabbit in 1977, the 1978 season saw Joe compete once again in the SCCA Rabbit / Bilstein Cup. A full season of competition saw Joe score a seventh place finish in the standings with five top five finishes.

The 1979 season was less successful in the final standings (11th) but Joe did score a second place at Trenton and two additional top tens throughout the year.

The 1980 season saw Joe compete in a partial season of the VW Rabbit / Bilstein Cup. Setting track records at Mid Ohio and at Charolotte Joe's best finish was a second place at Mid Ohio.

Nelson Ledges, a small track in Northeast Ohio, held the first ever Nelson Ledges 24 Hours Enduro in 1980. Joe grabbed the chance to run in the race with his VW Rabbit that he owned. A fourth place overall and first place in class was a great start to Joe's endurance racing career.

For 1981 Joe would continue his Endurance career with a new challenge, an automatic transmission in a 24 hour race.