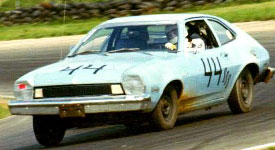 Joe started his carrer in motorsports with a Chevrolet Corvette. Getting into the scene in an affordable manner, Joe began in SCCA Soloing. The Corvette with its massive amounts of power made for an interesting challenge on the tight solo circuit. As Joe's interest continued to increase in the sport of racing he realized he wanted to go beyond racing in solo events.

As he looked at a budget for racing a Corvette in real racing, and as he looked at a budget for raising a family with his wife Kris, he realized one had to go. Joe sold the Corvette and bought a 1974 Ford Pinto. With less than 100 hp, narrow tires, and a bolt in roll cage, Joe was off racing his new Pinto.

The 1976 season saw Joe score six SCCA National wins in seven races with the Pinto. As he looked towards what he wanted for the next season he realized he wanted more competition and decided to purchase a VW Rabbit to campaign in a new series called the Rabbit Bilstein Cup.

The 1977 season saw Joe get used to the new car and new series as he prepared himself for a full season campaign in 1978.